"Laura Karst is a top-notch jazz singer based in the San Francisco Bay area who has a haunting voice and an adventurous spirit."     -- L.A. Jazz Scene, August 2022
"An artist with a wealth of talent...[and] poetic pipes."  -- Take Effect Reviews, February 2023
"Nice palate of colors for the canvas." -- Jazz Weekly, March 2023
Laura released her second album of solo jazz vocals, Dancing in Darkness, in June 2022.
The album comprises songs by an international array of jazz composers and a variety of jazz styles: swing, bebop, ballads, Latin, modern, and fusion, occasionally treating listeners to Laura's impeccably-pronounced French and Portuguese singing.
Hear clips from both of Laura's albums here. Click "Listen" at the top of the page to hear some full tracks.
0:00/5:04

0:00/3:24

0:00/5:34

0:00/3:04

0:00/4:03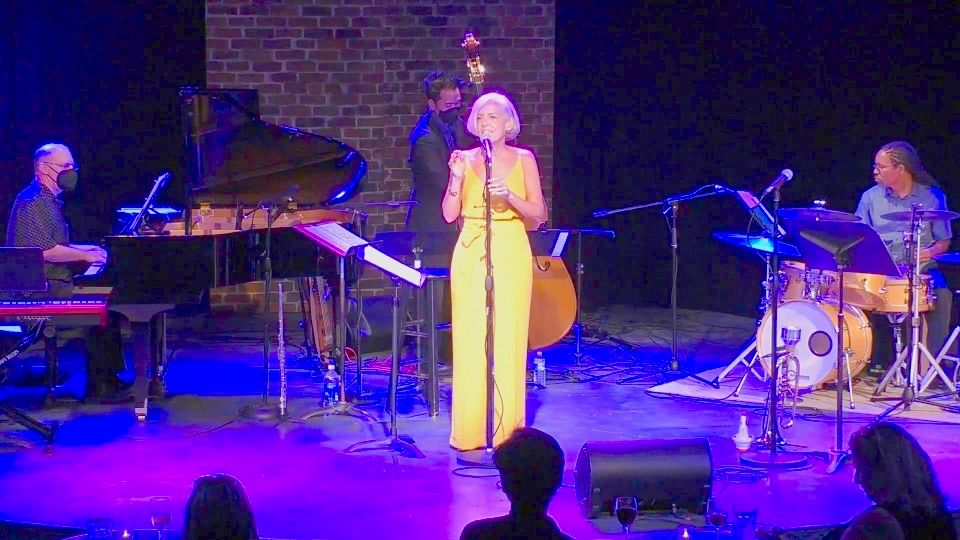 "Dancing in Darkness" Album Release Concert, June 2022 - photo courtesy of The Tabard Theatre, San Jose, CA
June 2022 Release "Dancing in Darkness"
Album Personnel:
Laura Karst – vocals 
Walter John Bankovitch – piano and Rhodes electric piano 
Noriyuki Ken Okada – acoustic and electric bass
Greg German – drums and percussion       
Modesto Briseno – trumpet and flugelhorn
Producer and Musical Director - Roger Letson
Engineered and mixed by Gabriel Shepard -
25th Street Recording Studio - Oakland, CA
Mastered by Gary Mankin - San Francisco, CA